No matter what he or she
Wrote about, or thought,
It was over about- reaching You,
That we became distraught!
No matter on this forum,
No *matter" may there be,
No mater-ial motives in-
But only love for Thee!
No matter our opinions,
May we never be neglectful,
Of Vaisnava's tender feelings,
May we always be respectful!
Dear Krsna, You're within our hearts,
So when we are confused,
Enlighten our discussions,
May they never be abused!
Dear Krsna, we give You, all
Our thoughts, our dreams, hoping
To see Your sweet smile shining through
The darkness, enveloping.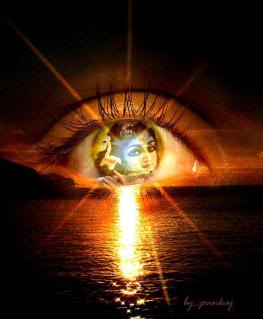 Self Deception
I have my guru, he's enough,
I don't need to read this kind of stuff!
I do my service, I'm in good standing,
I'm happy with my understanding.
Who I am in the lila, I have no clue,
Don't tell me what I have to do!
I'm a mother of four, how could I have time?
I'm a simple devotee, this is too sublime!
Just by serving in ISKCON, you're guaranteed
To go to Krsna, there is no need
To take the guidance of acaryas wise,
These guys are sahajiyas- in disguise!
All I wannabe is
a Prabhupadanuga!
That's the same anyway
As raganuga,
This is all just
"Gopi bhava stuff"
I have my guru, I have enough,
Everything prabhu is in Krsna hands
When He's ready, I'll understand,
Besides this world is but a dream,
(Row, row your boat, down by the stream...)
And we're really in Goloka, we fell asleep
Gopas and gopis, In Maya's keep.
Dreaming we fell, and entered hell
But we're only here for a tiny spell...
Nitya is not really nitya at all
For those who believe that the jiva falls...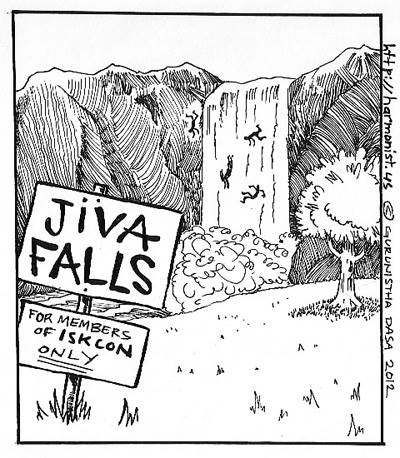 Time, I am!
Krsna, You say to us
Kalo 'smi!
But You sometimes pass so slowly!
With restless lazy glances at
This servant of Yours, so lowly!
Beloved, You say to us
Kalo 'smi!
As You gently heal all ills.
Drawing us in, assuredly
Sometimes against our wills.
Oh Sweet One, You say to us
Kalo 'smi!
Taking away it all-
Our strength, our power to think or do
Till helplessly, we fall.
Krsna, You say..
Kalo 'smi
And the ticking of the clock...
Wearing away our resistance to You
Like water, on a rock.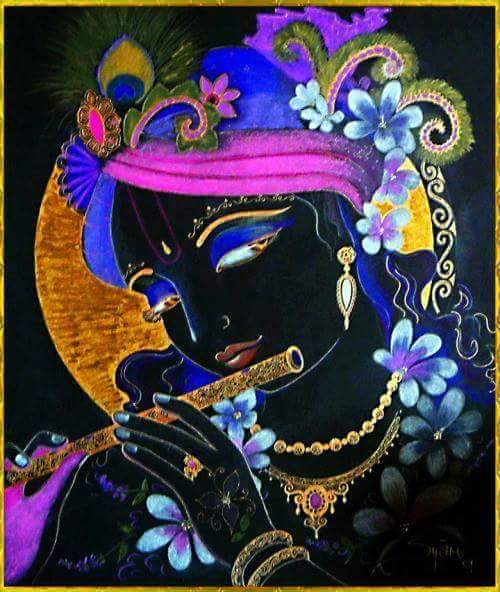 Puspanjali

May all that I do
All the debt I incur
Be in the service
Of Your lotus feet, Sir!

May You place those treasures
Where I can serve them-
In my heart, a place
Though I do not deserve them.

May I serve You with jasmine
Fragrant and sweet
Suitable for placing
At Your lotus feet.

May I serve You with campak
Golden in hue,
Like the face of Your dear One
Devoted to You.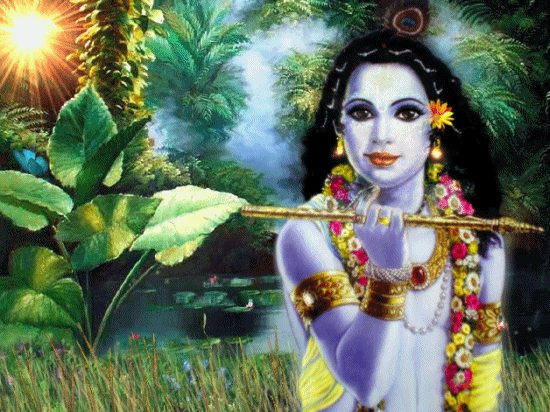 Puspanjali 2

May each of these flowers
Form a soft seat
Suitable for placing
At Your Lotus feet
Not stony paths,
Whose ways are artless
Attractive to only
Those who are heartless!

Each of the petals
Were formed out of love
By a flower who saw You
Walking above
And begged the contact
Of Your lotus feet
Thinking her petals
A suitable seat!

May each of these flowers
Gold, blue and red,
Form a flower bed
Where You rest Your soft head,
Perfumed with care
And placed in Your hair
Then scattered around
Here and there...

The sakhis see You
In Their whorl of hearts
Their ornaments, flowers
Their glances, darts
They fashion from flowers
Sweet things for Your ears
With shapes made from petals
And eyes full of tears.

With voices choked
And hearts yoked
They sighed, they joked
When feelings evoked
Overwhelmed,
They cry and shiver
As the lotuses blossom
On Prema's river.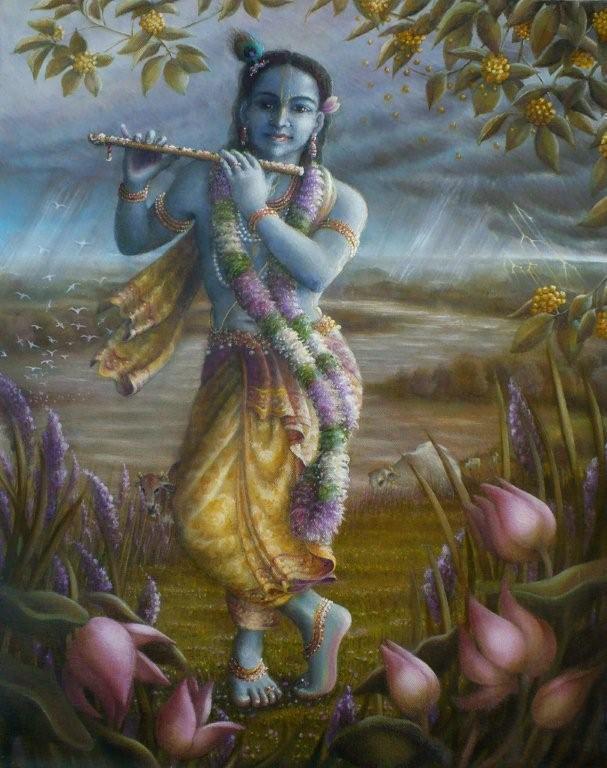 Heart's Appeal

Oh Mukunda, how could You give up these beauties?
Simply on the plea of dharmic duties?
When you told them to go, they looked at You tearfully
Through large lotus eyes, that glanced about fearfully.

One who is kind (as You're famous for)
Will always let in those who knock at His door!
Their hunger appeasing, their thirst he will slake
We think, Sir, You're making a massive mistake!

You are the Lord of the cows- and the senses
But their senses know no other defenses-
Running to You, how could You eschew
Those who know no other shelter but You!

How could You leave them- all alone?
Is Your heart only made of stone?
They should not obey a command that is cruel
In a place where love is the only rule!

Abandoning risk, love ruled the day
And Sri Krsna whisked them all away,
The clouds rained tears, and then turned white
Seeing them dance in that loveliest night.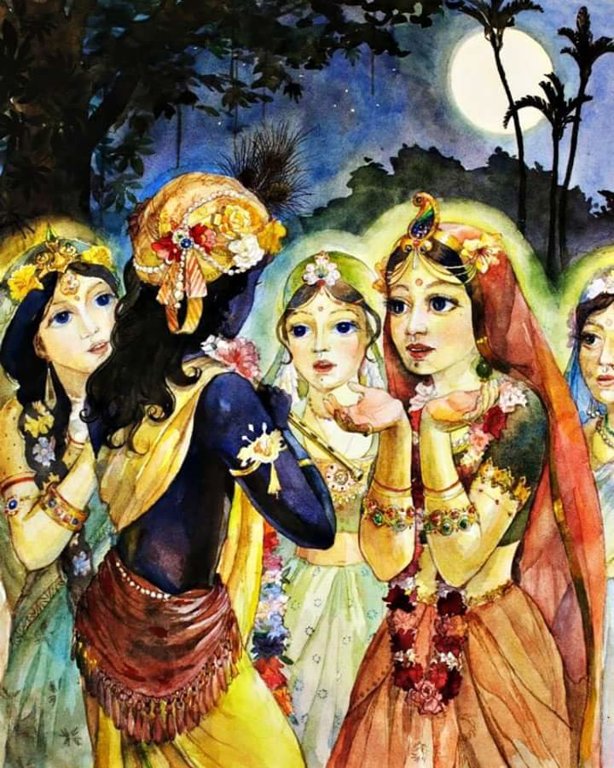 Flute song...
-Belong!
Ever after...
Hear their laughter!

Cool moon...
Sakhis swoon!
When light is dim
They go to Him!

In cloudy cape,
You will escape...
Or in white,
In soft moonlight!

Peacock feather...
They wonder whether
They are dreaming
In nectar, streaming.

Dance Master
Dancing faster!
To feel His touch...
They tremble much!

Hear the beat...
Of dancing feet!
Each heart races,
For His embraces!

Song of flute...
The birds are mute...
The stones all melt,
With longing, felt...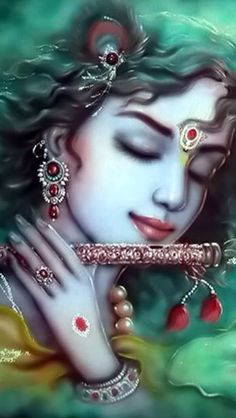 Oh bumblebee, bumblebee
Fly Into my thoughts!
Buzz away the darkness,
With all Your loving sports!

Oh bumblebee, bumblebee
Fly into my mind!
Where in its dark entanglement,
Your smiling face I'll find!

Oh bumblebee, bumblebee
Fly into my heart!
And melt its stone-like state, until
It shatters all apart!

Oh bumblebee, bumblebee
Don't leave me all alone!
When I have nothing else to love
Then make me all Your own.